Giulia Neri (Bologna, 1979) lives and works in Brunico, South Tyrol, in the Puster Valley. Thanks to her remarkable introspective skills, she is particularly attentive to everything related to emotions and focuses on the various aspects of human interiority. Soft colors and the absence of backgrounds allow the characters to stand out and create an atmosphere of deep silence. Same as the mountains where he lives.
Interview with Giulia Neri
Training and reference illustrators
I graduated from the Istituto Statale d'Arte in Bologna, where I studied painting, a decision I continued to pursue during the following three years at the Academy of Fine Arts. Then I gave up drawing altogether to attend the Faculty of Psychology and after graduating, four-year specialization in Cognitive-Constructive Psychotherapy. But the love of color came back like a tornado in 2013 and took over every room, making me a full-time illustrator.
Reference authors: Mattotti in primis, Adami and Hopper.
Translate your research into three adjectives.
Introspective, atmospheric, musical.
Which techniques do you like best?
I mainly work digitally.
Your taste in cinema and music.
As for music genres, I mainly listen to indie music and classical music.
As for cinema, I have a mad love for the Coen brothers and Wes Anderson movies.
do you have a secret dream
Dreams gather dust in the drawer. At the moment I've achieved everything I wanted and I'm really happy about that. Many sacrifices, but it was worth it.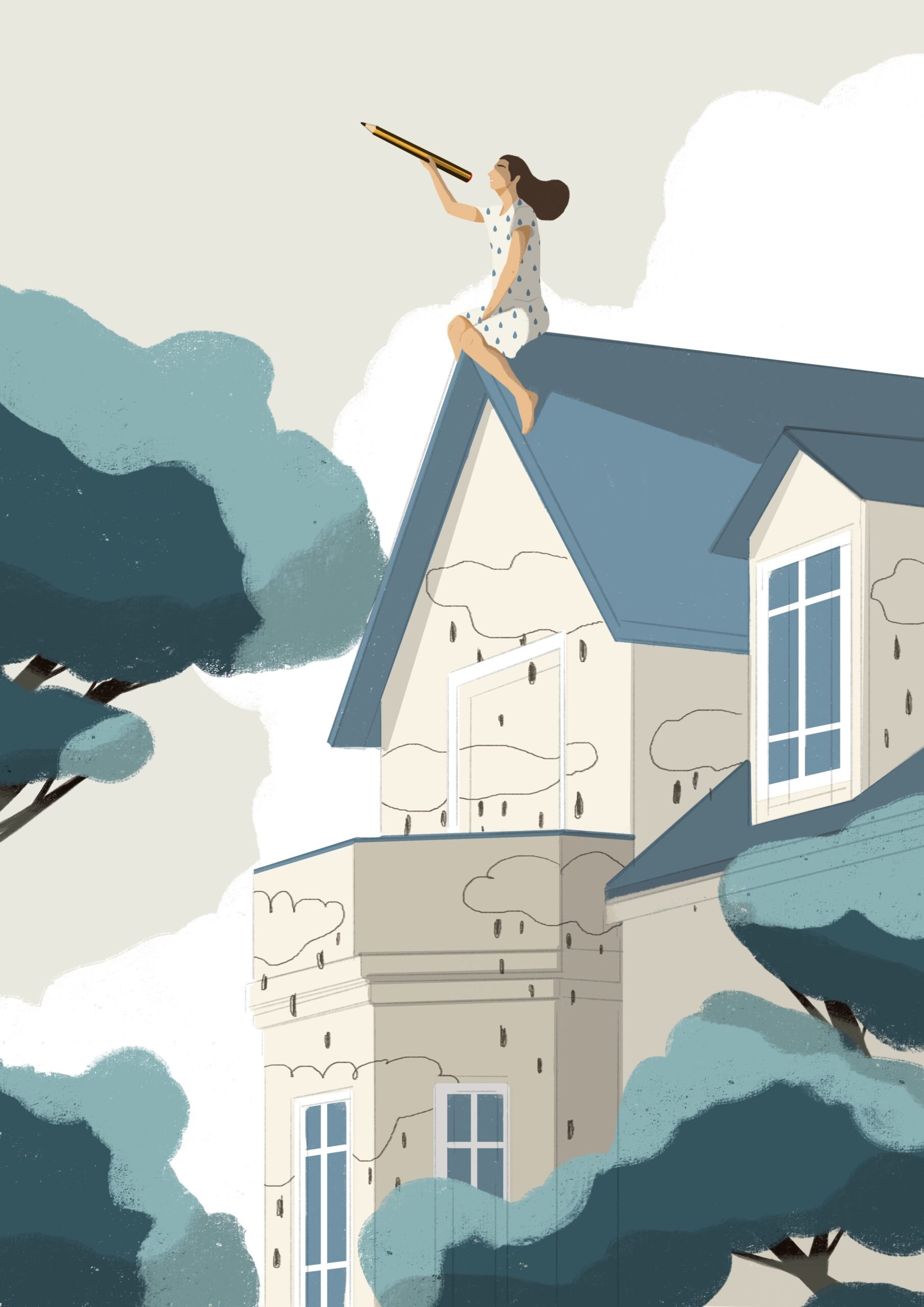 The illustration after Giulia Neri
Define the creative process of your work.
I mainly work with metaphors and similes. When I work for newspaper articles, I write down the main concepts and then start assembling images. Personal works, on the other hand, are based on a sensation.
What's the most unique request you've received?
The strangest requests are those from private customers, to whom I often have to say no. To call them surreal is sometimes an understatement.
Your opinion on the national panorama of illustration.
Illustration has increasingly found its way into the world of publishing, advertising and everyday life in general: I am grateful to have been born in this historic time when the love for what we do is so great. But there will certainly be times in the future when photography will be preferred to illustration, or when archival images will take the place of commissioned illustrations for purely economic reasons. I think it's the natural course of history, cyclically repeating itself.
What are you currently working on and what are your plans for the future?
I'm working on a book that will be published in October and on two important exhibitions that I'm doing in Italy. I mean, I have a few projects to take care of.
Roberta Vanali
Article published on Artribune Magazine #73
Subscribe to to Artribune Magazine
Buy yours Insert on the next Artribune