Time and space have always been fundamental concepts in defining the energy that moves humans and their relationship to the world around them.
Time, in turn, is shaped by the rhythm of visual perception, the superficial interface that allows us to fluctuate in what we Westerners are quick to believe is reality, our beloved subjectivity of perception. Have you ever looked at a landscape or a photograph, remembered a moment and thought everything was in place, as if it were a painting?
In the Street photography Reality is modeled with the elements that already exist and with the hidden corners of our experience, "The objective" is subjectivized.
Among the young Italian photography talents, Lorenzo Catena has this gift: the calmness of the attentive observer.
Interview with Lorenzo Catena
Lorenzo, tell us a little about yourself.
I am a Roman photographer and architect. My training in architecture has profoundly influenced my vision and the way I understand photography. However, I focus less on the static, architectural elements and more on the endless possibilities that arise when people interact with the space in which they live. I recently returned to Italy after a stay in Samoa, where I worked on a photo report in the country's capital, Apia. I am also the author of the photo book together with Valeria Tofanelli Mareterno (Augenshot, 2021), homage to the Roman coast, with particular attention to Ostia.
How do you approach photography and especially street photography?
A sudden passion after assisting an architectural photographer with his work in Bologna in 2016: I couldn't understand how you could describe a space in such an exciting way. That day I understood the potential and poetics of the photographic medium. When I returned to Rome, I took my old compact digital camera and started taking photos as much as I could every day. Then I realized that I was more fascinated by people and started studying the great masters of photography. I fell in love with street photography: everything that inspired me before I picked up the camera, such as film, literature, poetry, art and architecture, was always with me and I drew on it unconsciously.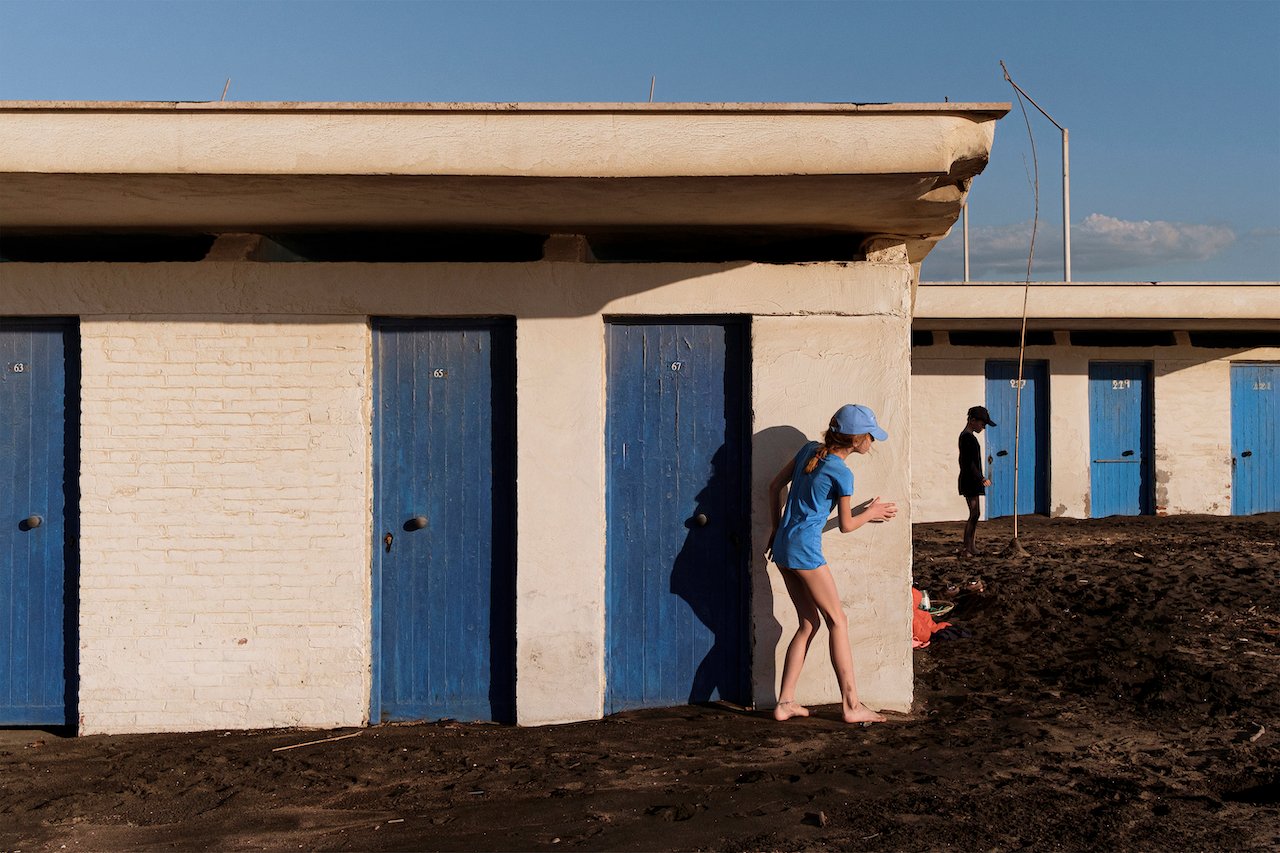 What is street photography?
What do you mean by street photography?
It's difficult to define street photography, everyone has their own perspective and personal approach. Personally, I would define it as the ability to capture authentic and spontaneous moments, both in public and private contexts, reflecting the daily lives of people or places where it is possible to detect tangible traces of human presence. In general, I look for relevant situations and impressive characters or compositions in the ordinary and banal.
Lately I've been trying to question my relationship with street photography: I've lost a bit of rigidity in terms of applying the rules, I interact a lot with my subjects, especially when shooting up close.
When do you take photos for single images or in series?
It depends, now I like to think that the photos I take can belong to a larger universe and that they can enter into a dialogue with others that I have taken before or that I will take in the future. I like to develop a narrative line that gives meaning to each shot. Of course, at the beginning of new projects or when we approach a context that is foreign to us, it is good to start by taking individual photos and thinking about them: if we work in this direction, it will be natural to build more complex narratives and something to tell We tell the story consciously, even if we street photographers often rely on coincidences.

With social media, street photography has reached an unprecedented audience. What are the advantages and disadvantages?
I think the more street photography is made available to a wider audience, the more situations will resemble those I experienced first hand, experiences of personal growth and expression.
However, we also have to be honest about the disadvantages of this digital democratization. Today, with the rush for fast-paced video content, there is a risk that photos will be perceived as static and boring. Our attention span has become very short and we are often bombarded with various gimmicks to attract the user to our work. Quite often, the photo itself fades into the background and becomes just a pretext for the short video that surrounds it. For us photographers, social media management has become a real challenge: Are you following because they are actually interested in your work as a photographer or because they like your work as an editor and entertainer?
Models and advice for a street photographer
Which photographers have most inspired your photographic work?
Alex Webb was the photographer who opened the doors to the world of street photography for me. His use of color, light and compositions fascinated me from the first moment I leafed through one of his books. The suffering of the light.
Henry Gruyaert, on the other hand, deeply impressed me with the melancholy and feeling expressed in his photographs. His ability to capture emotions so intensely is something that continues to inspire me in my photography. Another photographer who has had a notable influence on my artistic vision is Alec Soth. Although his photographic style and approach are very distant from mine, his philosophical influence on me, both as a person and as a photographer, has been fundamental. His work inspired me to delve deeper into human connection through photography. Cinema also played a fundamental role in my work. For me, Sergio Leone is an icon among film directors. His photographic compositions and the power of framing in his films taught me a lot about telling stories through the still image.
It's important to find a style that reflects your photographic message. What experiences have you had?
I have learned that my vision and sensitivity as a photographer are heavily influenced by my personal experiences and what I carry within me on a subconscious level. Photography has become a mirror of my feelings, fears and curiosities and reflects who I am as a person. I have found that I am often drawn to situations that are far from me, that frighten me or fascinate me because they represent something strange and unknown. This interest in the "other" was a way to open myself up to the world around me.
Advice for those approaching street photography today?
I would recommend diversifying your learning sources, buying photography books from the great masters, signing up for special workshops, attending exhibitions and festivals, and finding other photographer friends with whom you can share shots and ignite that passion.
Then practice as much as possible and be critical of your work: photography is a discipline in which constant practice is, more than ever, essential to improve Street. It helps to always have a camera with you to train your sensitivity every day.
Finally, be influenced by different artistic mediums. This open-mindedness will help you stand out and develop a personal style.
Marco Sconocchia